One of the many glories of a date with nature inside Whiteshell Provincial Park is that nearly everything is free of charge. It's safe to say that winter is here to stay at Tallpine Lodges, which has us excited! While it wasn't easy saying "goodbye" to autumn's peak, we especially love winter's embrace. There's just something uniquely romantic about frosty trees, slowly descending snowflakes, and the serenity one gathers when fully immersed in the wild. By now, you likely know that Tallpine Lodges ranks among the best adult-only resorts in Manitoba. But what you might not know is that our guests have convenient access to a wide variety of winter sports, including snowshoeing, ice fishing, and, of course, cross-country skiing. As one of the most romantic winter getaways in the region, many couples wisely venture from Winnipeg to West Hawk Lake in search of the most rewarding cross-country skiing in Manitoba.
Free Cross-Country Skiing in Manitoba: Whiteshell Park
While any average Joe can rough it just about anywhere in the Eastern Manitoba wilderness with varied success, nothing beats the feeling one gains while striding down a well-groomed Nordic ski trail. In fact, Whiteshell Provincial Park is home to several of the premier cross-country ski trails in Manitoba. If you take a look at the park's trail map, you'll quickly notice that there are dozens of accessible trails within minutes of our rustic Whiteshell cabins. Most notably, three distinct loops that collectively cover approximately 20.5 kilometres are located just down the road. Oh, and we provide guests with complimentary ski equipment to ensure that your experience is second to none. We love cross-country skiing in Manitoba more than most, which is why free ski rentals were a no-brainer. The intermediate High Lake Trail, in particular, is a must for avid Nordic skiers.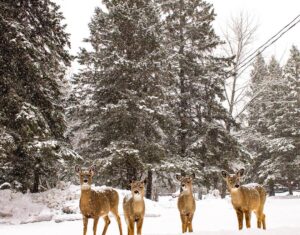 A Tallpine Exclusive: Free Winter Activities
Yes, couples and solo adventurers have exclusive access to several dozen kilometres of top-notch cross-country skiing in Manitoba. But please don't forget about our convenient access to West Hawk Lake ice fishing and countless nearby snowshoeing possibilities. You can also simply throw on your snow gear and venture into the dense wilderness in search of curious wildlife. Tallpine Lodges is always a hot spot for wildlife photographers—just take a peek at our Instagram page! We're also located near a ski hill, sleigh rides, horseback riding, and some of the most secluded snowmobiling in the province (on-site rentals are available).
A Rustic Adult-Only West Hawk Lake Resort
At the end of the day, the most critical aspect of a well-deserved, long-awaited escape to Whiteshell Provincial Park is the cabin. Yes, couples love snowboarding, ice fishing, and cross-country skiing in Manitoba. But a rustic, romantic cabin with a fully-equipped kitchen, electric fireplace, and large Jacuzzi tub is an absolute must. A lot of past guests discovered our playful, uninhibited respite by Googling "cross-country skiing near me,"—we're exceptionally close to all of the winter action! Give us a call today at 866-349-2209 to book a surprise winter getaway with your sweetheart. After all, Christmas, New Year's Eve, and Valentine's Day are all fast approaching!