There's never an off-season for angling here in serene Whiteshell Provincial Park, Manitoba's last remaining hidden gem. Many of our lakes and ponds are fully stocked with a variety of feisty, undeniably delicious freshwater fish. And luckily for you and your sweetheart, Tallpine Lodges is just steps from the deepest lake in Manitoba: West Hawk Lake, an angler's mid-summer paradise. While West Hawk Lake is beloved for its ample acreage primed for water skiing, pontooning, and canoeing, nothing quite outdoes a full day of fishing, with nary a care in the world. Before we dive into our three favourite Whiteshell fishing spots near our West Hawk Lake cabin rentals, it's important to note that we're still open and operational during these unprecedented times.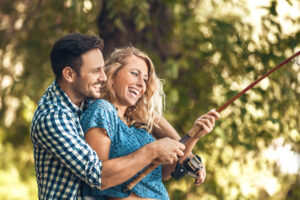 The Top 3 Whiteshell Fishing Spots
Although we already briefly touched on peaceful West Hawk Lake, it's important to shed light on at least two nearby Whiteshell fishing spots, just in case the fish aren't biting on a given day. The best fishing lakes in Whiteshell Provincial Park, in no particular order, are West Hawk Lake, Falcon Lake, and White Lake. They all provide, at their core, four things: easy accessibility, natural beauty, utter tranquillity, and, of course, a bevy of aquatic species aching to wrangler with a fisherman or woman over live bait.
West Hawk Lake
As we stated earlier, West Hawk Lake is a stone's throw away from the north side of our property. Thus, a good portion of our guests bring along their well-used (or perhaps brand new?) fishing gear in the off chance that a day on the water sounds overly enticing. At 111 metres, West Hawk is the deepest lake in the province. The depth is attributed to the fact that a massive meteorite soared, slammed, and eventually cratered a giant hole in the earth. Believe it or not, but freshwater whitefish rank among the most common catches in this picturesque body of water. You'll also likely hook a hefty lake trout, spirited smallmouth bass, trophy northern pike, or a slippery burbot before your adventure is complete. Remember: We're just down the road from West Hawk Lake Marina. They provide affordable docks, easy launch access, and a variety of pontoon rentals.
Falcon Lake
A few kilometres south of our rustic West Hawk Lake resort lies lengthy Falcon Lake, yet another one of the most rewarding Whiteshell fishing spots. The Faloma Beach Marina boasts a handy boat launch, sandy beach, and beginner-friendly docks. Falcon Lake is celebrated for its championship-esque smallmouth bass fishing. But don't be surprised if you earn the opportunity to wrestle with a fierce northern pike during your early- or mid-morning troll. This aquatic haven allures some of the most experienced Manitoba bass anglers!
White Lake
Most couples who frequent White Lake are more interested in cascading Rainbow Falls than the well-stocked walleye population. But that's OK with us. The small boat launch along the eastern edge of the lake can be discovered on Highway 307. White Lake isn't quite as scenic as West Hawk or Falcon, but this quiet slice of Whiteshell Provincial Park sees much less boat traffic. And the northern pike, yellow perch, and lake trout populations are thriving.
Extended Weekend Getaways in Manitoba
While Tallpine Lodges is widely regarded as the premier romantic getaway retreat in Manitoba, we also welcome solo adventurers who value the outdoors. There's so much natural beauty at an arm's length here along the southern rim of West Hawk Lake! Families of deer reside on the property, as well as several other woodland critters. The private cabins are meticulously cleaned, isolated, and equipped with a plethora of welcoming amenities, such as Jacuzzi tubs, saunas, and electric fireplaces. What more could you ask for in an extended getaway from the grips of Winnipeg's city centre? To learn more about our freestanding properties, please visit us online. It goes without saying that these three Whiteshell fishing spots make social distancing as natural as a glorious West Hawk Lake sunrise.