By Shel Zolkewich
A Creative Getaway
It sounds like the ultimate oxymoron—a working vacation. After all, vacations are meant to offer a break from the routine, a chance to disconnect and leave all the stresses of a working life behind. But let's face it, we all check our email, incessantly perhaps, no matter where we are or what we're doing.
That smartphone in your hand likely had plenty to do with a trend toward working while on vacation. With dependable Wi-Fi options, affordable roaming plans and cloud-based tools, switching off entirely is nearly impossible. And for many, having access to work is preferable.
Staying Connected
Statistics show that 36 per cent of men and 26 per cent of women say they enjoy vacation more—and feel less stressed during it—when they stay connected, checking in to ensure that things are running smoothly. After all, that week away can be entirely erased by coming home to a workplace catastrophe or an overflowing inbox.
I was recently invited to spend some time at Tallpine Lodges, the cozy collection of cabins at Westhawk Lake in Manitoba's Whiteshell Provincial Park. To be honest, the timing wasn't great for a visit. I had a pile of work on my plate, and one project in particular that needed a whole whack of creative thinking before it ever made it way out into the real work. But I accepted the kind offer, thinking that maybe, just maybe, a change of scenery would help me focus and get some creativity flowing.
A Change Is as Good as a Rest
There's an old saying that promises "a change is as good as a rest." The line has been kicking around since 1857 when it was first published in a poem that became widely popular. Simply put, it presents the notion that a shift in one's regular work routine is just as restorative as a bona fide holiday. And as I would soon find out, there's nothing wrong with carving out a little time each day to dedicate to work. In fact, it might just deliver the moments of clarity and big thinking required to take the job from done to dynamic.
Chalet #5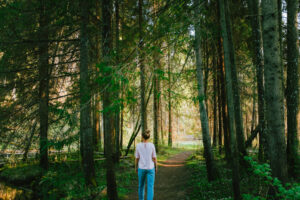 I arrived for my midweek visit armed with my well-worn Keen hiking boots, a pound of freshly-ground coffee, and a box of decadent pastries for breakfast. And my laptop. Chalet #5 was home base, a spacious cabin outfitted with a big comfy couch, fireplace, full kitchen, indoor spa, and even a sauna. The showpiece of the cabin was the hand-carved king-sized bed. It promised luxurious comfort with every glance.
Over the next three days, I would stroll to the nearby Hi-Point Restaurant and Lounge and Nite Hawk Cafe to enjoy hearty dinners and delicious cocktails. I would rise early and step out of my cabin, spend time visiting with the whitetail deer that roam the grounds of Tallpine Lodges, then set off for a vigorous hike. I would come back to my cabin, light the fire, and settle in for a couple of hours of work, returning emails with speed and clarify, jotting down notes for that demanding project. And once work was done for the morning, there was an incredible sense of freedom—some downtime earned for a job well done. I got my work done efficiently, without distraction. And during those demanding hikes, I was often visited by creative muses, gifting me with original ideas as I perched on a rock to catch my breath.
Supreme Relaxation
Sometimes there would be an afternoon nap in that beckoning bed. Other times, a sunset stroll offered the perfect light for wildlife photography. Or perhaps an hour of work to catch up on late-day emails. There were bone-warming saunas after long and chilly hikes and after-dinner dips in the sauna with an excellent novel in hand.
Savouring Every Moment
So is a change as good as a rest? Resoundingly yes! The idea of spending a few hours a day working gave me permission to treat the remaining hours like a true vacation, savouring every moment. The day-to-day work of emails, reports, and deadlines got done efficiently because I knew there was a reward on the other side.
As for the big project that needed some creative attention? It got what it needed. It was turned inside out, on its side, redrafted, evaluated, and fine-tuned into what it needed to be. And I honestly don't think it would have got the attention it needed without that walk in the woods.