Less than 90 minutes from Winnipeg rests a calming, romantic, and relaxing four-season adult-only resort in quiet Whiteshell Provincial Park. There's no denying that balancing a stressful albeit rewarding career and a hectic schedule with the everyday weight of being a parent takes its toll on couples – which is why we purchased and reinvented Tallpine Lodges soon after discovering this land's unique de-stressing abilities. We're incredibly proud to be one of the only adult-only Manitoba resorts. Keep reading to learn why our customers call us the "perfect getaway to reconnect with your partner."
Adult-Only Resorts: Escape City Life and the Kids
Leaving the kids with the grandparents or a close friend, even for an evening, is not an easy thing to do (just ask any parent), but sometimes it's necessary to sustain a healthy marriage. It's essential to periodically spend a day or two (or three) away with your husband, wife, or partner. Work can be stressful, demanding, and tiring, even if you're not a parent. Work often seeps into our thoughts, distracting us from our children's needs. Tallpine Lodges was built upon the idea of creating a peaceful, rejuvenating haven for couples in need of a recharge. If you're curious of what it's like to plan a couples escape to Tallpine Lodges, please read Carmen Kaethler's customer experience.
Relaxing Amenities: De-Stress in a Romantic Manitoba Cabin
Tallpine Lodges is one of the only Manitoba resorts to have a fleet of Jacuzzi tub cabins. Regardless of the season, there are very few activities more romantic than a private, soothing Jacuzzi bath with your sweetheart. But we didn't stop at Jacuzzi tubs – our cabins also include cozy electric fireplaces, flatscreen televisions, private saunas, and fully-furnished kitchens. Cooking a gourmet meal for your significant other is just about the most romantic gesture imaginable! The surrounding natural wilderness, of course, is yet another place to unwind here in Whiteshell, Manitoba.
Quiet Spaces and Free Activities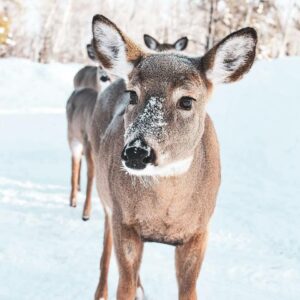 Wintertime is often the "season of love" because it entices couples to snuggle close on cold evenings, especially after a full day of adventure and exploration. Our guests can use our complimentary cross-country skiing and snowshoeing equipment to explore West Hawk Lake, Whiteshell, and the surrounding pristine wilderness. We also provide snowmobile rentals, and we're a short distance from Falcon Ridge Ski Slopes if you're in the mood for some wintertime thrills. Nearby Falcon Beach Ranch, meanwhile, provides relaxing, scenic horseback trips, wintertime sleigh rides, and romantic wagon rides!
You'll also discover a seemingly endless array of quiet spaces throughout our wilderness resort, the perfect place to get in touch with nature. One of the most popular daytime activities for couples here at Tallpine Lodges is searching for herds of wild deer, who frequent our property. You can get within inches of these fearless deer (as seen in the photo). Tallpine Lodges is so much more than a wintertime escape. Couples love building campfires, waterfall hunting, and canoeing on West Hawk Lake during spring, summer, and fall. We also have complimentary canoes, bicycles, tennis racquets, and a paddle boat available for use. And don't forget that we're within walking distance of Hi-Point Restaurant and Lounge and Nite Hawk Cafe if you desire a succulent steak, juicy burger, or tasty milkshake. Give yourselves the romantic, de-stressing getaway that you deserve this year by visiting Tallpine Lodges, one of the premier Manitoba resorts. We're just a short 90-minute drive from Winnipeg!