One of the many advantages of choosing Tallpine Lodges for your next romantic getaway from Winnipeg is our easy access to a wide variety of Eastern Manitoba hiking trails that meander through calming, awe-inspiring wilderness inside Whiteshell Provincial Park. Whether you're hoping to backpack along West Hawk Lake or discover a serene deep woods waterfall, you'll quickly discover that the best Eastern Manitoba hiking trails are just minutes away from our rustic, ultra-romantic cabins. We've hand-selected three of our favourite Eastern Manitoba hiking trails based on our personal experience and customer reviews. All three locations are ideal for couples hoping for several hours of seclusion, reflection, and awe-inspiring natural beauty.
Hunt Lake Trail
Not every couple that escapes to Tallpine Lodges is aiming to hike along West Hawk and Hunt Lake for 14 kilometres, but we highly recommend this peaceful, rejuvenating journey. The Hunt Lake trailhead lies only two kilometres down the road from our adult-only West Hawk Lake resort. Most hikers who accept the challenge always return exclaiming that "the photos just don't do it justice!" You'll discover picturesque reflective pools, deeply-carved rock walls, breathtaking West Hawk Lake overlooks, lush forestry, cascading waterfalls, and so much more!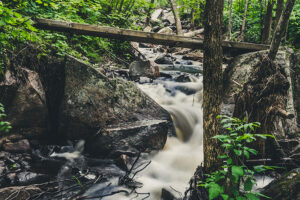 McGillivray Falls Trail
The pristine beauty of McGillivray Falls is well worth the 12-minute drive and the 2.8-kilometre hike. The looping McGillivray Falls Trail is mostly flat and typically takes hikers approximately 80 minutes to finish, depending on how many times you stop to admire this area's tranquillity. McGillivray's main trail is technically closed due to flooding and bridge repairs, but it's almost back to its former glory! Hike the 2.8-kilometre loop, or venture onto the longer loop, which typically takes hikers two hours to finish. Both trails, which remain two of the only Eastern Manitoba hiking trails that feature a rushing waterfall, meander along McGillivray Lake and a naturally-developing creek. Some light bouldering is required, and your feet will likely get wet during this peaceful expedition.
Falcon Creek Trail
Falcon Creek Trail remains one of the best-kept secrets amidst the area's top-rated Eastern Manitoba hiking trails. This 2.2-kilometre hike meanders past giant boulders, untouched forestry, and occasionally woodland critters. With next-to-none elevation gain, strong boardwalks, and well-groomed terrain, Falcon Creek is one of the easiest hikes for those who're looking for a quick, 40-minute stroll through the lush, peaceful wilderness near Whiteshell, Manitoba.
Romantic Getaways near Winnipeg
Tallpine Lodges is less than 90 minutes from Winnipeg; we're also one of the only adult-only resorts in the province! Whiteshell Provincial Park is also home to prime fishing, cycling, and jet skiing. Most of our cabins feature electric fireplaces, private saunas, two-person Jacuzzi tubs, BBQ grills, satellite television, and so much more! To reserve a well-deserved romantic getaway or solo adventure to West Hawk Lake, please give us a call today at 1-866-349-2209, or book now online!