What images come to mind when pondering the perfect Whiteshell lake resort? Perhaps a smiling couple canoeing on a reflective pool of lake water, a deep-forested cabin surrounded by towering pines, or a roaring campfire glinting into the night's starry sky? Tallpine Lodges, the premier three-day weekend getaway in Manitoba, wholly encapsulates the essence of an idyllic Whiteshell lake resort. As there aren't many adult-only havens in Canada, Tallpine Lodges remains a beacon of light for couples in need of an extended break from hectic schedules, busy streets, and stressful workplaces. Now more than ever, people need solitude deep amid the glory of Whiteshell Provincial Park, Manitoba's purest hidden gem.
Relaxation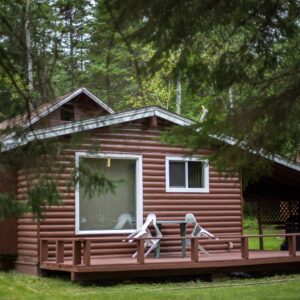 Today, we thought it would be relevant to single out three unique, tangible qualities of a potential weekend getaway to our peaceful Whiteshell lake resort: relaxation, adventure, and romance. Let's start with the obvious: relaxation. Although relaxation takes little to no effort, most couples have a difficult time obtaining true tranquillity during a vacation, no matter how heavenly the destination. Relaxation is a mindset, just as much as it is a feeling. Finding beauty in Manitoba's backcountry is as natural as a West Hawk Lake sunset. So, kick back, relax, and relish your time spent in the vast wilderness, surrounded by nothing but curious wildlife, lush woodlands, and picturesque cabins.
Many couples relax by stargazing, birding, fishing, and taking full advantage of our various amenities (such as a Jacuzzi tub, electric fireplace, and private sauna). Feel free to click the links below to learn more about this valley's healing powers:
Adventure
We'll keep this category brief as we've written a lot of literature over the years about the various on- and off-site activities and adventures. Some are more adventurous than others. But there's no denying that the region caters mostly to those with a penchant for outdoor recreation, with ample relaxation and romance as an added bonus. Click the links below to learn more about each potential mid-day adventure.
Romance
But, of course, the "hidden" element that makes our Whiteshell lake resort so incredibly unique is romance. As mentioned earlier, all cabins come equipped with a large Jacuzzi, private sauna, electric fireplace, and full kitchen. Many couples cook their own version of a gourmet meal inside the cabin as an act of love. Others dress up and stroll down to Nite Hawk Cafe or Hi-Point Restaurant and Lounge for some classic (and undeniably delicious) Eastern Manitoba fare. 
There's a seemingly endless forest at your disposal as well, where hand-in-hand walks come very naturally. The warmth and convenience of an indoor electric fireplace is also quite enticing. Couples can pop open a bottle of wine, snuggle close, and share stories of the day's wildest adventures. From time to time, we also provide romance packages for couples looking to save money. Again, we have a few handy guides listed below to ensure that your long-awaited escape is nothing short of spectacular.
Finding an Idyllic Whiteshell Lake Resort
While Tallpine Lodges isn't your typical Whiteshell lake resort (we're technically not located on the lake…it's practically a stone's throw away, however), our family-owned business knows that the water calls at all hours of the day. Thus, we provide complimentary canoes and a paddleboat to all guests. We can also swiftly arrange a watercraft rental for those who didn't tug along their fishing boat or pontoon. Please don't hesitate to browse through our classic Whiteshell cabin rentals at TallpineLodges.com. Remember: Despite being one of the country's most beloved adult-only resorts, we're as affordable as they come!