Your Romantic…Ice Fishing Getaway Awaits.
Tall Pine Lodge is located at West Hawk Lake in the beautiful Whiteshell Provincial Park,
A short 90-minute drive from Winnipeg, Manitoba. Known for its extravagant custom pine cabins, with beautiful handmade furniture. Each lodge has its own private entrance, parking, personal fresh water (no chemicals) Jacuzzi, private sauna, fireplace, kitchenette, and barbecue. What you may not know though, is that it is located right in the middle of prime Manitoba ice fishing!
When it comes to Tall Pine Lodge and the Whiteshell Provincial Park in winter, the scenery and wildlife alone are a big enough draw. With gorgeous sky-high boreal forest and what seems like a lake around every corner, the sights are never ending. Depending how far you want to adventure from 5 minutes to an hour I will provide you all the information you require to wet your line, catch (or release) some dinner and enjoy one of the greatest outdoor activities that has ever existed, ice fishing in Manitoba.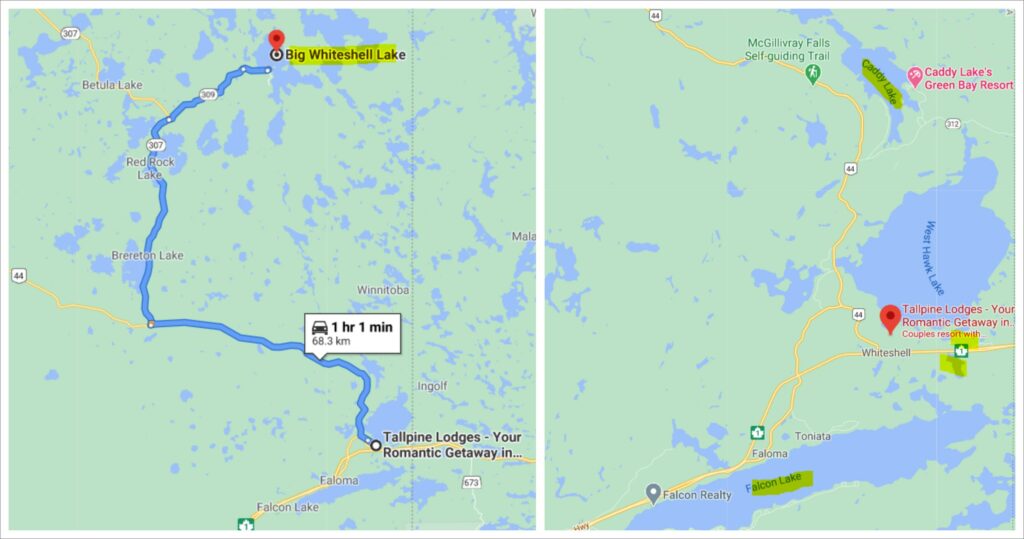 Step 1: Target Species
Fishing becomes a lot more fun and rewarding when you know what you want to target, where you have the best chances of catching it, and on what tackle. Knowing these three key items will take away the guess work and down time, most of the time… while there can still be slow days depending on shifts in weather and pressure systems. Doing the research highly improves your chances!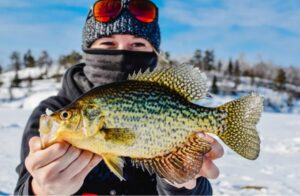 Caddy Lake
Species: Crappie, Perch, Walleye, Northern Pike
Accessibility: Can be drive/walk on access depending on snow conditions.
Distance: 15 minutes.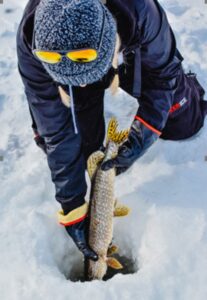 Falcon Lake
Species: Northern Pike, Walleye, perch.
Accessibility: Drive/Walk on access.
Distance: 15 minutes.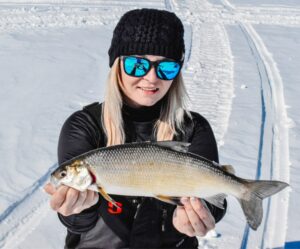 Big Whiteshell
Species: Tullibee, Pike, Perch, Crappie, Walleye.
Accessibility: Drive/Walk on access depending on snow conditions, community spots close to boat launch.
Distance: 1 hour.
Hunt Lake
Species: Various stocked trout depending on the year.
Accessibility: Walk on access.
Distance: 15 minutes.
Lyons Lake
Species: Rainbow trout.
Accessibility: Walk on access.
Distance: 15 minutes.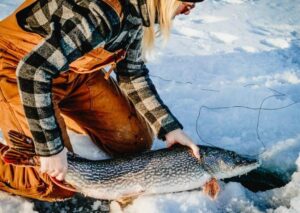 Step 2: Pop ups, augers, oh my!
So you have rods and tackle, but you haven't made the investment in the hard water gear yet. No problem, Tallpine has you covered. Their snowmobiles can be rented when the snoman trails are open adhering to the snoman trails. An ice fishing package includes: the ice auger, a pop-up tent, a propane heater, 1 full tank of propane, 2 folding chairs, some icefishing rods and a pull sleigh to pull the equipment on. The investment for a fun day on the ice is $120 plus tax for the day.
Keystone resort – the Esso station just up the road can recommend and provide tackle and bait.
If you have access to any ice fishing electronics, like a flasher, I would highly recommend bringing one.
Ensure you dress in lots of layers as Manitoba weather can change at a moment's notice and mornings and evenings can be much brisker than the mid-day.
Lastly, I always recommend a safety kit. Conditions can change in a split second. A compass, flashlight, matches, candles, first aid kit, heated blanket and hatchet are at the top of my list.
Step 3: Rods
As this article is here to give you the basic 101, always do as much research as possible on each target species to know the best time of day, if they prefer structure, depth or shallows to always increase your odds. When it comes to the most popular species, Crappie, it is best to get an ultra-light rod. This will increase your sensitivity to their light bites and thus increase your odds of catching one especially if you do not have a flasher. Ultra-light rods are also great for perch and tullibee.
Line for your ultra-lights is just as important, with fluorocarbon, you're getting low visibility, thin diameter, and good sensitivity. It has some stretch when you set the hook, but not as much as monofilament. Fluorocarbon falls much faster than mono. Medium to medium heavy are perfect for walleye and pike. I typically use braided line for walleye and pike as they have such sharp teeth that easily cuts through monofilament. Do not underestimate the importance of proper line!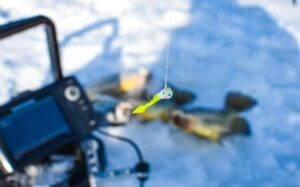 Step 4: Tackle
Tackle is also very specific to each species. When targeting crappie, perch and tullibee they have very small mouths and soft lips. Often referred to as "paper lips". I use small tungsten jigs tipped with plastics like blood worms, leaches etc.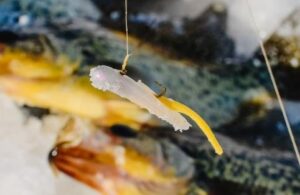 Some will tip with a minnow tail for scent. Another great lure of choice is a small tube jig. When using tungsten jigs they are typically heavy enough to drop to the bottom. Tube jigs on the other hand tend to require split shot to reach the bottom.
Tackle for walleye and northern pike however is much different. For northern pike in winter we typically like to set up tip ups with perch on a quick strike. You can also use large spoons, bait balls and anything large and aggressive. Sometimes they will even hit small perch tackle if they are hungry or mad enough! For walleye I always like to start with a dead stick (a rod that is not jigged or handled) with a jig with a live minnow on as bait. The live minnow does all the work and movement. If you do not have a flasher it is also a good way to tell if there is a predator near by if the rod starts moving a lot as the live minnow will be trying to get away. My other rod I start with a jig and salty or a shiny spoon.
Always remember, every hook should be de-barded as per Manitoba Fishing regulations.
Whether you are new to fishing and just out to try ice fishing, wanting to target new species, or just want to get out and have fun I hope this guide helps you accomplish a fun, safe and successful day out on the ice. The number one priority is always to have fun and enjoy being one with nature. There is no better place to have a Manitoba ice fishing adventure, than Tall pines lodge.