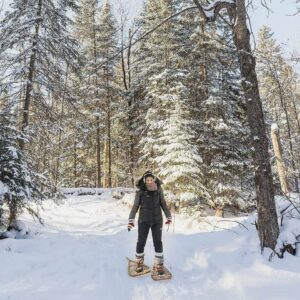 By Reanna Khan, Never See Come Sea
As many of you know, winter isn't really my thing. However, with winter generally lasting six or so months in Winnipeg, it's so important to take a moment to appreciate its beauty. In January this island girl got the opportunity to get away with her favourite photographers to enjoy Manitoba's natural winter wonderland at Tallpine Lodges, located in the breathtaking Whiteshell Province Park. This family-run lodge offers guests an opportunity to reconnect with nature with the luxuries of a private lodge. Each lodge has a maximum accommodation of two persons, is adults only, and a perfect getaway to reconnect with your partner, your bestie, a parent (and adult child), or a solo trip to reconnect with yourself.
A Creative Girls Getaway
We chose to do a creative girls getaway. We spent our time checking out the local restaurants, playing in the snow, and just chatting. A night or two away from my hubby and baby are never at the top of my list. In fact, it never feels right to leave your family for a girls/solo getaway but hunnies, it is so worth it. Sometimes life is so busy that we just need to stop and reconnect with our thoughts – do a little self-care and de-stress. Do you know that old saying that "it's OK to miss your loved ones sometimes?" It's so true.
Winter Bucket List: Snowshoeing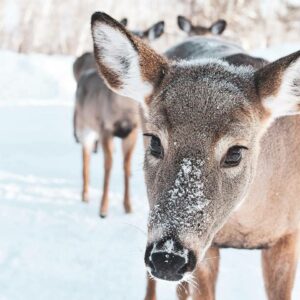 We did our best to brave the cold on a brutal -40 (with windchill) weekend. One of my bucket list winter items was to go snowshoeing, and lucky for us there were complimentary rentals available at the front desk. If snowshoeing isn't your thing, they also have cross country ski equipment, snowmobile rentals, and several other outdoor adventures available. Pro tip: There is a pack of friendly wild deer that roam around West Hawk Lake. Always keep your eyes peeled. We first spotted them right outside our cabin.
The Perfect Staycation
I stayed in cabin #5, and my girls stayed in cabin #1. As you know, I always have criteria for a perfect staycation:
Clean
Cozy
Hot tub (because it's the middle of winter)
Eats nearby
Scenic
Well, I must say Tallpine Lodges rates 5/5. The lodges were so clean – even the window sills were sparkling. The lodge offered:
A kitchen and a BBQ grill
A super comfy king-sized bed (all to myself)
A large Jacuzzi tub fit for a king and queen or just a bunch of boss babes
A fireplace that gives you that cozy vibe and makes you want to curl up on the couch and watch a good movie
Large windows to enjoy the view of the large snow-covered black spruce trees without having to leave to comfort of the cabin
Hiking trails nearby
Short walk to Nite Hawk Cafe and Hi-Point Restaurant and Lounge