By Carmen Kaethler, Macaroni Kid
Getaway to Relax, Recharge, and Reconnect with Your Partner
As parents of two girls under the age of six, taking time away for just the two of us has not happened since before our oldest was born. We have worked hard to set time aside for dinner dates with just the two of us throughout the years but still having to rush home to relieve our babysitter and put the girls to sleep doesn't leave us a lot of time to connect as a couple. When I would sit down to plan a vacation it was always for the family. We have limited options between activities and work for trips that many times I was actually solo parenting vacations and a few times leaving the girls home with dad while I attended a conference or camp.
Making a priority to leave the girls home with someone while we spent time together was hard for me. If I'm honest with myself, I pushed it aside because I was afraid the girls would be "too difficult" for someone else…because the "someone else" wasn't us. But now that my youngest is three years old and has had a few overnights without me (only dad at home), I knew it was time that we could start putting a little time aside for just the two of us.
Time to slow down. Time to relax. Time to reconnect.
A Couples-ONLY Retreat
So when an opportunity arose for me to book a stay at Tallpine Lodges, located at West Hawk Lake just a short 90-minute drive from our place in Winnipeg, I jumped at the chance. I could have scheduled dates for any time this year, as they are open year round, but when I considered the busyness of our lives, taking two days off during the work week after the whirlwind of the Christmas holidays sounded the most refreshing to me. And to be honest…the most (mom) guilt-free.
When I have time off during the summer months I want to spend as much as I can with my kids. Choosing a winter retreat during the work week seemed the best option for me to focus on just us. We had my in-laws that were happy to watch the girls for two nights, my mother in law even stayed at our house to make school drop-offs easier. Everything and everyone was looked after.
A Quiet, Snowy Retreat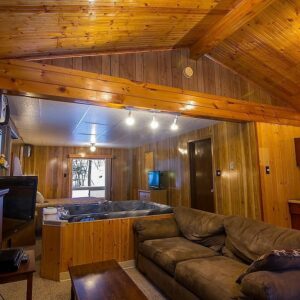 We arrived Monday evening to the quiet, snowy retreat nestled in the woods, tucked away from the hustle and bustle of life that we are so used to, and checked into our private log cabin that was equipped with all the comforts and luxuries one would expect from a romantic getaway.  My favourite was the Jacuzzi tub that I had plans of relaxing in once we settled in. There was also a personal sauna, electric fireplace to curl up in front of in the living room, and a fully-furnished kitchen.
Perhaps second to the Jacuzzi tub for me was looking at the comfortable king bed and knowing that neither of my children would be crawling into it to kick me in the head as they slept sideways and hogged the mattress, pushing us the edges. Like I said…luxuries.
I'll admit another luxury for the two of us was the ability to sit down and binge watch a season on Netflix of a show that was completely inappropriate for children.
Cuddled up in front of the fireplace in my wool socks and drinking coffee, we watched an episode while enjoying breakfast. Not feeling rushed to be anywhere at any specific time (something that had me reminiscing about our honeymoon which was the last time we had done something like this) was the pinnacle of relaxing for this busy mom.
Wildlife – Up Close and Personal
While we sat there we were greeted by the resident deer, looking back at us from the picture window. It was close to 10 a.m. and they were making their daily rounds to check in on who was at each cabin. We quickly dressed and went out hoping to catch a few pictures before they scattered, not imagining that they would remain in the yard mere feet away from us – an experience that was priceless for both of us.
Exploring the Natural Beauty
Enjoying our relaxed schedule, we walked over to the lodge's office after lunch to borrow two pairs of complimentary snowshoes from Sacha, our warm and friendly host, who gave us directions on where to explore. We went for a walk along trails and onto the frozen lake, although only the secluded bay as the winds were a little high to enjoy the wide openness the full lake would have to offer.
I enjoyed the crisp air and exercise the walk offered. Our frost-covered hair and rosy cheeks were welcomed as we took in the wilderness that surrounded us. I appreciated the quietness that the winter season provides, as the majority of the cabins we walked by were closed up until spring. The lodge also offers complimentary cross-country skis as well as snowmobile rentals that an adventurous couple could sign out if they were inclined – something we will add to the list for our next visit.
After our long walk, we opted to drive into town even though it was mere minutes from the lodge to grab dinner at one of the restaurants that are open year round. I had packed food that I prepared in our cabin's fully stocked kitchen for the rest of our meals but we wanted to treat ourselves to at least one meal "out."
Until Next Time
Being able to take this much-needed time for just us to relax, recharge, and reconnect was the perfect start to a new year. As we woke on our second morning, the tempting thoughts of calling in sick and adding another day to our stay kept running through my head. While I would have loved to stay longer I knew we had to return and I really did miss my girls…a lot.
So while this was goodbye, for now, I was already planning our next visit. Perhaps a new "New Year" tradition has started for our family.
The author received complimentary accommodations to facilitate this review. All opinions are her own.