The Month of Love is fast approaching here at Tallpine Lodges in tranquil Whiteshell, MB, signifying that it's time to start making your Valentine's Day getaway plans. Our family-owned and operated couples-only resort is the perfect wintertime escape for sweethearts looking for a long weekend away from the hectic city life. Drop the kids off at the grandparents' house, unplug from the stresses of work, and recapture a little magic with your significant other here in quiet, relaxing Southern Manitoba. Tallpine Lodges, home to some of the most romantic cabins in Manitoba, welcomes couples of all ages to our tranquil paradise, only 145 kilometres from lively Winnipeg.
The Month of Love in Whiteshell, Manitoba
You don't have to celebrate Valentine's Day on February 14. We welcome couples from Manitoba, Ontario, Minnesota, and far beyond to celebrate your lives together during the Month of Love with a week away at Tallpine Lodges. Explore our serene wilderness via snowmobile, snowshoes, or cross-country skis before dining at a local restaurant. Cap off each evening with a rejuvenating sauna cleanse, a soothing Jacuzzi bath, and a fireside snuggle – all of which can be obtained inside one of our ultra-romantic cabins in Manitoba.
Ultra-Romantic Cabins in Manitoba
Take a peek at our cabins online before booking a well-deserved escape to Whiteshell. Our Manitoba cabins were carefully constructed to suit the needs of loving couples. Each cabin is equipped with a personal sauna, soothing Jacuzzi, electric fireplace, and a fully-furnished kitchen. With romantic cabins averaging between $140-180 per night, you won't find a more affordable couples-only escape in Canada.
Couples-Friendly Activities
You're free to spend as much time as you'd like inside your romantic home-away-from-home, but we highly recommend exploring the natural wilderness every afternoon. There are 250 kilometres of meticulously-groomed snowmobile trails in the Whiteshell area. We do have snowmobile rentals available on-site (please call ahead). Snowshoeing is a relaxing activity for couples, especially near serene West Hawk Lake. We recommend seeking out the blazed hiking trails near the lake, which also meander through our peaceful boreal forest.
Tallpine Lodges also provides complimentary cross-country ski equipment, something you simply won't find at other Manitoba resorts. There are nearly 40 kilometres of trail access in the area, which you can easily pick up near your cabin. Our beautiful property is home to several woodland critters, including friendly deer, adorable rabbits, majestic foxes, and a variety of colorful birds. If you're lucky, you can feed these animals and snap photos with them.
A Romantic Dinner for Two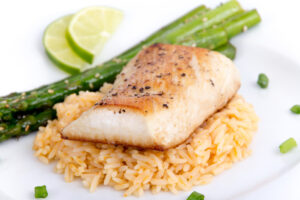 There are two dining options when you stay at Tallpine Lodges: an in-cabin candlelit dinner or a romantic experience at a nearby restaurant. Some couples find that cooking together is equally stress-relieving and tantalizing. Perhaps you would prefer to cook a romantic dinner for the love of your life – the perfect testament of your enduring love. Fresh-caught, pan-fried walleye with brown rice and asparagus paired with a bottle of wine will win anyone's heart.
But our romantic cabins in Manitoba are also within walking distance of several top-notch restaurants, including Hi-Point Restaurant and Lounge and Nite Hawk Cafe. Hi-Point is open seven days a week and serves spectacular lightly-breaded walleye, charbroiled ribeye steak, and creamy fettuccine alfredo. Nite Hawk Cafe is open Friday and Saturday evenings. This cozy yet elegant cafe has two popular specials: Friday night ribs and Saturday night steak. But we also cannot get enough of their crispy beer-battered haddock, housemade pierogies, and the bison burger with whiskey BBQ chipotle sauce. Nite Hawk Cafe was ranked the #5 pit stop in Canada for their burgers and milkshakes by MacLean's Magazine! Give us a call today at 1-866-349-2209 to escape the hectic city with a well-deserved getaway to beautiful Whiteshell, Manitoba.