If there's something that I should start talking about, it's that Tallpine Lodges is SPOTLESS! It's a great place, gorgeous location, and some of the best winter experiences I've ever had. Ok, but let's start from the beginning.
THE OCCASION
I was surprised by my lovely husband with a belated Valentine's celebration. My mission was packing in 30 minutes to go to a place with snow (what really did not help when you live in a long-lasting winter in Winnipeg, Canada). I did not know where he was taking me until we got inside the car. I had a little shock when I discovered that he was taking me to Tallpine Lodges. If you don't have a clue what I'm talking about, I highly recommend you to take a look into their Instagram account and see for yourself.
TRENDS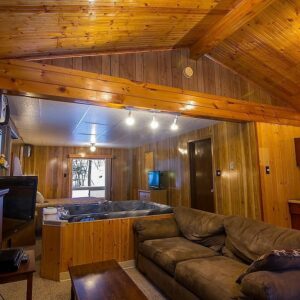 The first trend that I identified was the "couples-only" hotel. They have 15 complete cabins, ready-to-use kitchen appliances, a BEAUTIFUL Jacuzzi, great views from the windows, and I just said Jacuzzi? Yeah, yeah, once again the Jacuzzi, it's fantastic, and you really should try it.
A second trend is a DIY service. Hotels that offer the complete space and you are responsible to make your own food, barbecue, and cleaning. It's good to know that Tallpine Lodges does not offer breakfast or have a restaurant in the place, so it's the best idea to bring your own stuff, which is great so you can think about something special to celebrate a special occasion, maybe?
The third trend that I observed was about "experiences." Today, hotels are trying to differentiate itself from the competition based on experiences and about this Tallpine Lodges is just WOW! You can rent snowshoes and cross country ski equipment for free to explore the area. I'm talking about winter, but in the summer, you can have complimentary canoes, paddle boat, bicycles, and tennis racquets available, as well as a heated swimming pool, open from late May until early September.
They also offer you a GREAT, AWESOME, FABULOUS experience of driving a snowmobile. Sacha, the owner herself will help you in your first drive and tell you about every path of the wildlife which makes the experience even better. Was our first time in a snowmobile and we absolutely loved it! I highly recommend you to try.
LOCATION
Just a 1.5-hour drive from Winnipeg. It's really easy to find Tallpine Lodges:
Take Hwy #1 east from Winnipeg or #17 West in Ontario.
Get off at the West Hawk Lake exit.
After three kilometres, you will reach the stop sign. Turn right.
Tallpine Lodges is on the right-hand side (after one kilometre), just past the beach.
You will be within walking distance of restaurants and convenience stores just in case you forget something. The stores have everything that you need from camping to food and desserts.
ROOM
I can say without a doubt that the room was the cleanest room that I've seen. And we have visited a bunch of hotel rooms in the last few years. Very well equipped, linens, pillows, and a comfy king bed. You can find extra linens, towels, and pillowcases in the drawer. I know that I already talked about the Jacuzzi but WOW! You need to go there to see for yourselves. It's giant and if you want, in the office, Sacha sells some bubble baths and other stuff to make your moment more relaxing. There's a good size bathroom with a sauna inside. There's also good appliances in the kitchen, well supplied with plates, wine glasses, cutlery, garbage bags, pans, and more than you will need to prepare a meal for two. The cabins are 700 square feet with six categories of rooms of your choice.
WHAT TO DO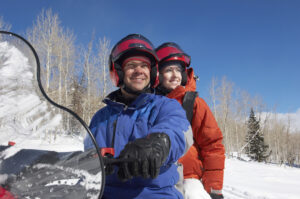 First: Make your reservation right way! They are very busy and you need to try to get your cabin as soon as possible, especially if you are already thinking about summer.
Second: Enjoy the place. You don't need to go anywhere else. You will be hosted by great owners and you can see how they care about the place. You will also make good friends with the deer over there. I had the greatest reception ever with them, so cute and sooooooo adorable.
Third: It's a place to enjoy with your partner, bond, or re-bond with him/her. Make the connection stronger. The Wi-Fi's good for the area but not great, and I think that is a good thing. Instead of being on social media all the time, you can try to have good memories for life. But later on, don't forget to share your experience cause this is one of those places that everybody should be aware of.
SERVICE
Sacha and her husband are the owners of the place, and they take care of everything that you need personally. As I said, they don't have housekeeping or a restaurant, so they don't offer this service, which is also a good idea because you are there to enjoy a romantic getaway! I can see some improvements in the future about the service but for now, I just know that I had an unforgettable stay at Tallpine Lodges, and I'm looking forward to coming back in the summertime.
BASIC INFO
Address: 800 West Hawk Blvd, Whiteshell, MB R0E 2H0
Phone: +1 866-349-2209
Website: http://tallpinelodges.com/
Instagram: @tallpinelodges
Facebook: /tallpinelodges