Your Romantic Getaway Awaits
Tallpine Lodges is located at West Hawk Lake in the beautiful Whiteshell Provincial Park,
a short 90-minute drive from Winnipeg, Manitoba.
Exclusively for Couples
Ideal for your honeymoon or anniversary
Are you are a couple planning a romantic honeymoon or anniversary? An energetic duo who loves the outdoors? Or simply a couple searching for a relaxing, peaceful getaway?
Tallpine Lodges is the place to come year round!
Ideal for your honeymoon or anniversary
Are you are a couple planning a romantic honeymoon or anniversary? An energetic duo who loves the outdoors?Or simply a couple searching for a relaxing, peaceful getaway?
Tallpine Lodges is the place to come year round!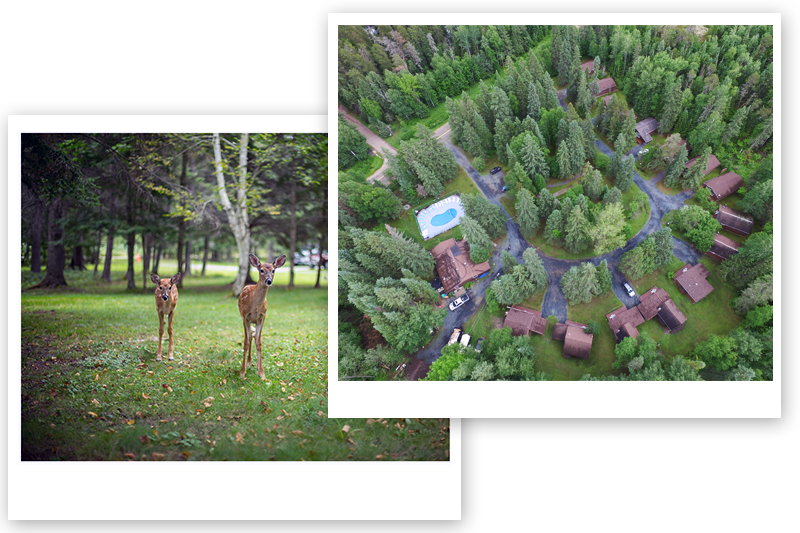 About us
It all started when TJ and Sacha, a young married couple were feeling overworked and decided they needed a break. They managed to get an opening at Tallpine Lodge and while relaxing by the pool they said to each other, "Hey we could do this one day, wouldn't this be fun to own!" Well, the rest is history...after inquiring about the Lodge with the owners it turned out that a year later the Lodge was for sale and TJ and Sacha jumped at the opportunity.
Experience a little piece of paradise
Our individual lodges accommodate a maximum of two people and are expressly designed to offer our guests, a quality private sanctuary. Experience this private and serene place created with the two of you in mind.
We are uniquely situated within walking distance of restaurants and convenience stores. However, we are known for the privacy and seclusion we offer. Surrounded by a forest of evergreens and numerous picturesque lakes, the feeling of tranquility is evident from the moment you enter the resort grounds. Deer graze freely. Rabbits and foxes are frequent visitors. The sound of birds and the chattering of the ever-present squirrels create a relaxed atmosphere. Our staff remain in the background but at all times ready to tend immediately to any concerns you may have.
Feel free to hike, bike or ski on the many nature paths that surround the resort. Enjoy a refreshing dip in our seasonally heated pool. Enjoy a dining experience at one of the local restaurants or prepare your own candlelight meal in the privacy of your own lodge. Spend quality time together soaking away life's stresses in your own private Jacuzzi or curl up in front of a fire while sipping a glass of wine.
Each lodge has its own private entrance, parking, personal fresh water (no chemicals) Jacuzzi, private sauna, fireplace, kitchenette, and barbecue. The lodges are fully furnished. TV, DVD player, and a stereo system are provided for your entertainment pleasure. All dishes, glasses, crockery, cutlery, cooking utensils, and linens are supplied.
Tallpine Lodges is the place to enjoy a Romantic Getaway for any occasion, a place to renew and refresh your relationship, unwind and relax away from the noise and rush of ordinary life.
Our Cabins
The Perfect Getaway For Any Occasion
Looking for gift certificates and Donations?
We've got you covered.
Looking for gift certificates & Donations?
We've got you covered.
Searching Availability...
Here's what you can expect to find in your cabin
Here's what you can expect to find in your cabin
Attractions
The Beauty of the Incredible Whiteshell at Your Doorstep
A heated swimming pool, open from late May until early September, is a proven magnet for many of our guests. While soaking in the water is appealing for many, basking in the sunshine on one of the poolside deck chairs with a cool drink and a good book is just the right amount of exercise for others.
Horseshoes and shuffleboard are available for your enjoyment.
The wildlife that shows up on site is a perennial favourite. Friendly deer, rabbits, foxes and many varieties of birds create year round photo opportunities. One of the best vantage points is often from the patio chair on your private deck.
With the setting of the sun, your deck is transformed into a place for quiet conversation while admiring the celestial show overhead and possibly even the colorful northern lights. The call of a loon or the hoot of an owl completes the magical mood.
Amenities
Exceptionally peaceful even at peak season
Seasonally heated pool
Sandy beach, just steps away with crystal clear water
Complimentary canoes, paddle boat, bicycles and tennis racquets available
Motorized & non-motorized watercraft available for rent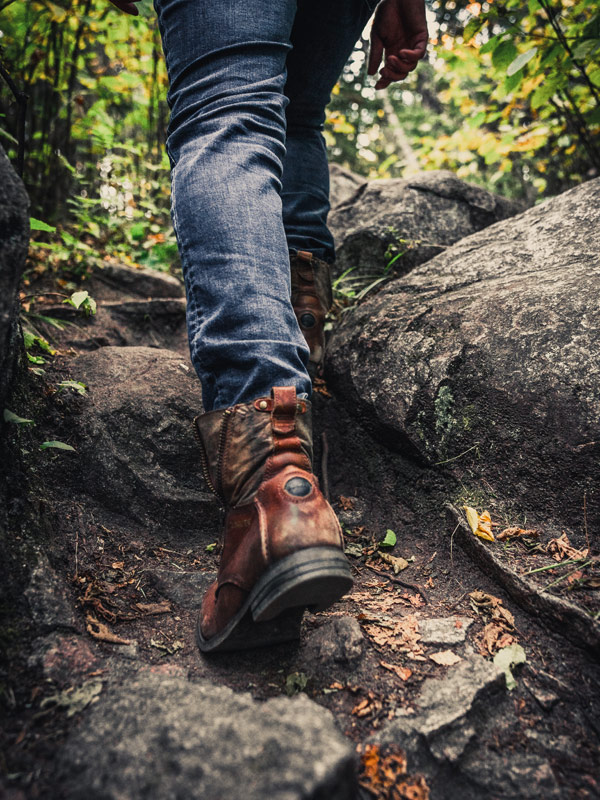 Summer Activities
Scroll through below for some of the many things to do during your stay with us.
Hiking
There are numerous well-marked trails in the area to experience, ranging from an easy half hour walk to more challenging multiple hour hikes.
Cycling
Cycling enthusiasts thoroughly enjoy the 14 km South Whiteshell Trail which offer views of lake, forest and hills as it winds its way from West Hawk to Falcon Lake. A spur of the Trans-Canada Trail also links West Hawk with Caddy Lake. Exploring the quiet local roads is another option. You can choose to bring your own bikes. You are also welcome to use our complimentary bicycles.
If you'd like to see the park from a different vantage point, we suggest from the back of a horse. Beautiful trail rides at reasonable prices are available for all skill levels just a short distance away. Contact Falcon Beach Riding Stables at 204-349-2410.
Golf
Only 10 minutes from the resort is The Falcon Lake Golf Course. Tallpine guests are often seen shuffling clubs about their vehicles after having played "the best 18 hole course in Manitoba." Some even manage to squeeze in a couple of rounds during their stay. If the smaller version of the sport appeals to you, mini-putt is also available in the same area.
Tennis
If you and your partner would like a different sort of love match, free tennis courts are available in town. Complimentary racquets are available at the resort.
Aquatic Activities
West Hawk Lake, mere steps away, is Manitoba's deepest lake at 111 metres. The extensive sandy beach at West Hawk is considered to be the best beach in the Whiteshell. The clear deep water is superb for swimming and/or relaxing. Complimentary canoes are available at the resort for guests who wish to leisurely explore the lake's scenic beauty. A convenient marina at the end of the beach has other watercraft available for rent.
Fishing
If fishing is your preference, you've come to the right place. Manitoba Conservation operates a nearby hatchery, which you may tour. It also stocks surrounding lakes with species such as northern pike, bass, walleye, rainbow and lake trout. Many a sportsman has achieved Master Angler status in the area.
Attractions
Walking distance of restaurants, lounge and convenience stores
Excellent bicycle and hiking trails nearby
Falcon Lake Golf Course, minutes away
Explore scenic Kenora & The Lake of The Woods 40 minutes away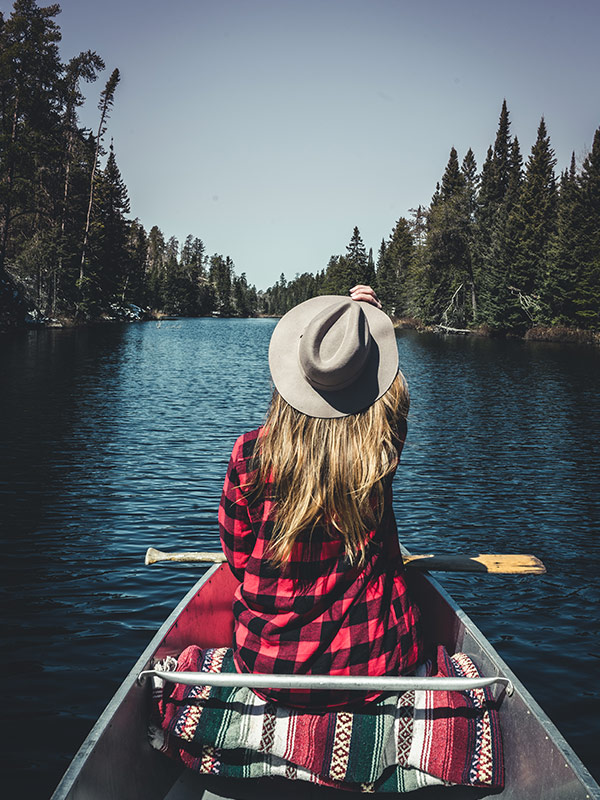 Amenities
Safe winter access as we are just minutes from The Trans-Canada Highway.
Complimentary cross country ski equipment for our guests.
We share this area with the local wildlife which is plentiful in winter, including many birds, foxes and deer who will eat from your hand
Cozy individual lodges with private jacuzzis and saunas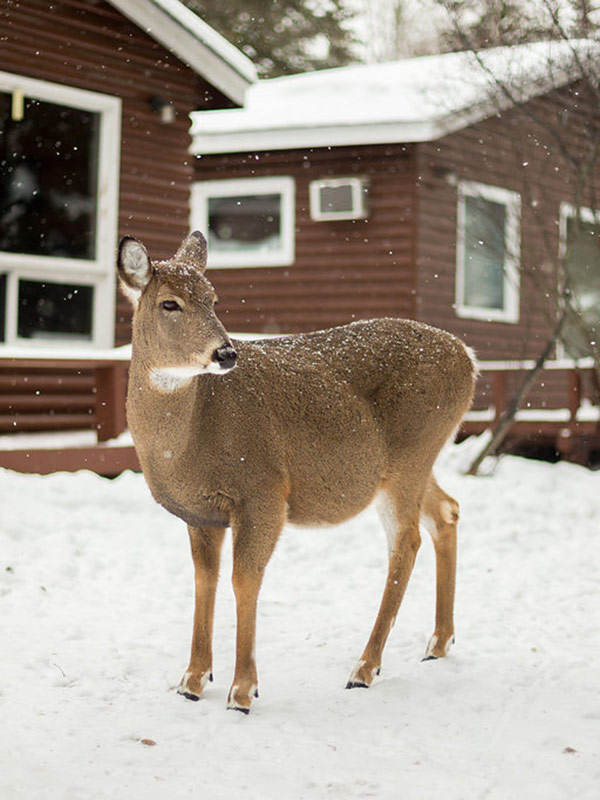 Winter Activities
Scroll through below for some of the many things to do during your stay with us.
Many couples are snowmobile enthusiasts and have discovered the more than 250 Km of Whiteshell groomed trails to be unsurpassed.
Rentals available to guests of Tallpine Lodges, please call for pricing.
Fuel is paid for by the customer, and a $500 deposit is required. Taxes are on top, and its unlimited mileage. Snoman pass is included, and we will provide helmets.
Experience the exhilaration of cross country skiing amidst the stunning winter landscape surrounding Tallpine Lodges. From close to your own lodge you are able to access The West Hawk Lake and Area Trail System. They happen to be the most extensive in The Whiteshell. There are three loop trails totaling 20 kms, plus links to the 12 km South Whiteshell Trail and the 7.5 km High Lake Trail.
If you are a winter outdoor enthusiast with a taste for speed, then let gravity assist you. Falcon Ridge Ski Slopes offers tubing, downhill skiing, cross country skiing, as well as snowboarding. The slopes are conveniently located roughly 20 minutes from the resort by car. Tallpine Lodges customers receive 15% off full or half day ski/snowboard lift passes, and 15% off full day tubing passes (does not apply to hourly tube rentals). Equipment rentals are available.
Snowshoeing
With snowshoes and a little energy, there's numerous interesting adventures possible from the resort. Couples may choose to explore one of the nearby blazed hiking trails, or simply to take a few steps behind their lodge, to immerse themselves in the peaceful solitude of winter in the boreal forest.
Ice Fishing
With the abundance of lakes in the area, there's no shortage of exciting angling opportunities to be had. Couples thoroughly enjoy outings to nearby stocked lakes such as West Hawk, Lyons, Hunt, and Camp. While most guests return with walleye and trout... and a big smile.
Looking for something different? Only ten minutes away you can take a step back in time and explore the beauty of the tranquil countryside as it was done one hundred years ago. Your exciting horseback or sleigh adventure awaits you. Contact Falcon Beach Riding Stables at 349-2410.
Go for a Drive
If you'd like to admire the surrounding winter wonderland from a more comfortable vantage point, consider your automobile. The majority of park roads are maintained throughout the winter. Simply reduce your speed and prepare to marvel at the postcard like scenery. You'll pass through snow covered rock cuts, beside countless frozen lakes, along tree lined corridors and the observant will be treated to views of wildlife in their natural habitat. Don't forget your binoculars!
Inside Your Private Lodge
For both active and more laid-back couples, when the wind howls, the temperature drops and the snow begins to pile up outside, appreciation for the cozy interior of your individual lodge increases. No need to feel guilty about not being outside doing something. The welcoming warmth of your personal sauna and soothing jacuzzi quickly become romantic destinations in themselves. Combine that with a candlelight dinner, possibly a movie, a little snuggling in front of the flickering fire and you have all of the necessary ingredients for an unforgettable romantic winter getaway!
Attractions
Walking distance of restaurants, lounge and convenience stores
Ideal location in Whiteshell Park: one of Manitoba's most popular winter wonderlands.
Cross country skiing and snowmobiling: easy access to area's extensive network of trails
Explore scenic Kenora & The Lake of The Woods 40 minutes away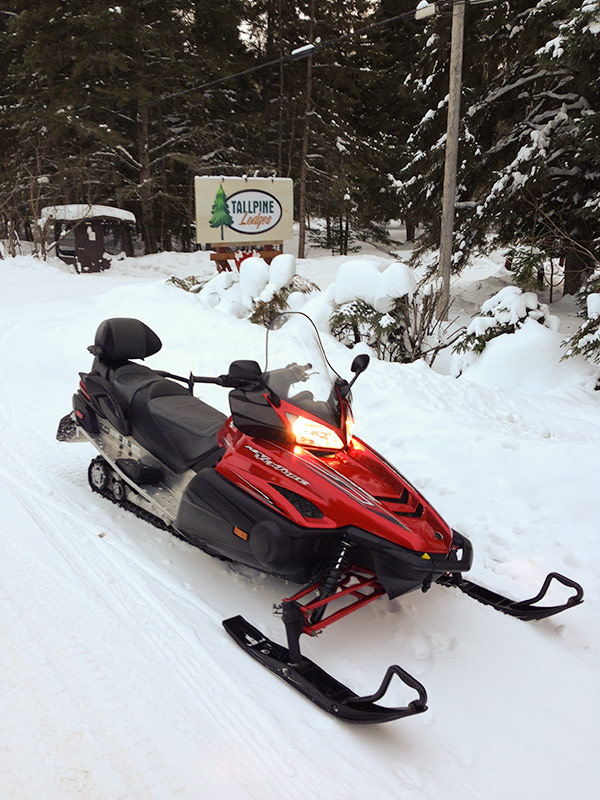 Gallery
Discover the Beauty of the Whiteshell
Box 40
West Hawk Lake, Manitoba
R0E 2H0
Our address is 800 West Hawk Blvd, West Hawk Lake, MB.
(1.5 hours from the Mint)
Take Hwy. #1 East from Winnipeg, or #17 West in Ontario.
Get off at the West Hawk Lake Exit.
After 3 km. you will reach the stop sign. Turn right.
Tallpine Lodges is on the right hand side (after 1 km), just past the beach.