We're quickly approaching the much-anticipated summertime lake season here at Tallpine Lodges, one of the top-rated romantic getaways near Winnipeg, Manitoba. Couples escape to our year-round, adult-only resort for the natural beauty, the seclusion, and the rejuvenating "powers" of this peaceful land. During the summertime, many couples venture onto West Hawk Lake for a bit of reflection, scenery, and, of course, adventure. There are many ways to enjoy Whiteshell Provincial Park, including canoeing, fishing, and wave running. And luckily for you and your sweetheart, tranquil West Hawk Lake is steps from all of our ultra-romantic Eastern Manitoba cabins.
Canoeing
The best way to explore serene West Hawk Lake is inside a complimentary two-person canoe! West Hawk Lake spans over 3,700 acres, so we recommend packing a picnic for your journey. There are 12 islands in the lake, most of which rest on the north end, opposite of Tallpine Lodges. Gorgeous granite rock walls line a large portion of West Hawk Lake, which is why so many couples combine a canoeing trip with some light hiking. The tall granite cliffs provide jaw-dropping views of Whiteshell Provincial Park – you might even be able to see our lakefront Eastern Manitoba cabins if you bring along a pair of binoculars.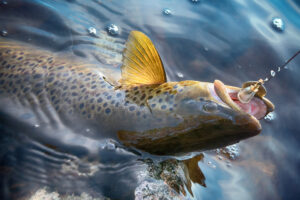 West Hawk Lake Fishing
Is there another lake activity as reflective, quiet, and peaceful as fishing? Tallpine Lodges has become a popular escape for solo adventures, especially anglers looking for a weekend of seclusion to unwind, relax, and rejuvenate far away from the office. Whether you're hoping to throw a line into the water within steps of our Eastern Manitoba cabins or you're aiming to fish from your boat, West Hawk Lake is an ideal summertime activity for most couples. Many anglers hook delicious lake trout and sizable burbot, although whitefish, smallmouth bass, yellow perch, and northern pike also call West Hawk Lake their home. The nearby Whiteshell Fish Hatchery, which is run by Manitoba Conservation, raises and releases three types of trout, Arctic char, and walleye every year into our surrounding lakes.
Wave Running
If you're looking for a place to rent kayaks, paddleboards, a pontoon, a fishing boat, or wave runners, we recommend embarking on a five-minute walk to the nearby marina on the beach, which is linked to West Hawk Marine approximately three kilometres from our Eastern Manitoba cabins. It doesn't get much more exciting than a mid-summer wave running excursion under the warm sunshine with the refreshing wind blustering through your hair! West Hawk Lake, unlike many other nearby bodies of water, doesn't see a ton of traffic during the summer months, so it'll feel like you have the entire lake to yourselves.
Ultra-Romantic Eastern Manitoba Cabins
Start each morning with a steaming cup of fresh-brewed coffee and a homemade breakfast inside one of our romantic Eastern Manitoba cabins before exploring our tranquil wilderness. All of our Eastern Manitoba cabins are equipped with large, soothing Jacuzzi tubs, private saunas, BBQ grills, satellite television, and comfy king and queen-size beds. Victoria Day Weekend is one of our most popular holidays here at Tallpine Lodges for many couples, especially those with grown children or no children. Don't miss out on this extended holiday! Give us a call today at 1-866-349-2209, or visit us online to book a well-deserved escape to one of the premier adult-only resorts in North America!